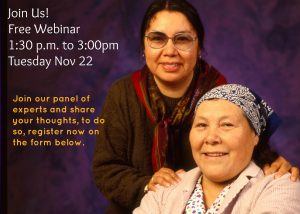 What if…
Aboriginal women played a greater role in Aboriginal women's health?

Aboriginal women's health research was community driven?

Health equity was achieved between Aboriginal and non-Aboriginal women?
You are invited to a Free Webinar, these important questions and others will be discussed by our panelists.  This event is more than just another webinar.  It is an extraordinary opportunity for you to share your thoughts on improving Aboriginal women's health.
NWAC is looking to create an "Aboriginal Women Health Research Centre". This is a unique chance for YOU to influence the future of Aboriginal Women's Health.
This upcoming event is produced by ICN in collaboration with NWAC
Join Us! Tuesday Nov 22, 2016 at 1:30 pm
If you cannot attend, still register as a participant because we will provide you free access to video recording of the panelists discussion and we will make it possible for you to share your thoughts or to ask pointed questions and we will get you answers 
For more info and/or to participate please register click here