Latest Issue

(Winter 2016/2017)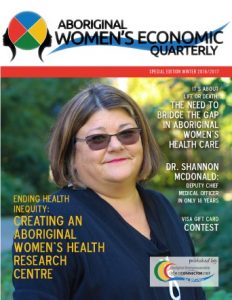 IN THIS ISSUE
Our focus is Aboriginal Women's Health an issue very much impacted by the discrimination and neglect experienced when accessing health care services.
In collaboration with the Native Women's Association of Canada (NWAC)  (Pathways PEKE program), we have produced a research project using a mix of multimedia, public survey and Foresight methods to explore with panelists and participants the pros and cons of creating an Aboriginal Women's Health Research Centre. The Framework report is included as a special insert in your magazine.
The report is followed by an article on the current status of Canadian health care for Aboriginal women from a new contributor, Professor Richard Miller; and
On a lighter note, but still focusing on the importance of taking care of our own health, we've included motivational and upbeat articles from regular contributors Sandi Boucher and Asha Frost.
                                

To view this issue and past issues Click 

 AWEQ 
                            

To subscribe, it's free click

Subscribe
Please share with a friend

— use button below