The Idea Connector Network (ICN) has been producing content and building its Indigenous entrepreneurial online community since 2011. Since inception we have produced more than 450 video/audio interviews and panel discussions.  We have also produced many articles, e-books, e-magazines. animated promotions and more.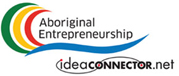 As well we have produced multiple exercises using Foresight methods and multimedia.
In these exercises we bring people together to anticipate the future by developing plausible visions of what it might bring, so that preparations to deal with possible threats and to exploit possible opportunities can begin immediately. We have produced several private and publicly available research projects. A few examples of subject areas: "Framework for Creating an Aboriginal Women's Health Research Centre"; Framework for Building Relationships and Identifying Opportunities that Underpin Joint Ventures. ", "Enabling Aboriginal women to play a greater role in the development and management of Natural Resources".
ICN is a social enterprise and a third party independent organization. We do not and have never received core funding from government. Developing the Indigenous Entrepreneurship online community has been a labour of love made possible through project funding by government, corporate sponsors, and in large part, thanks to the contribution of thousands of volunteer hours.
The Proteus Canada Institute (Proteus) is a not-for-profit corporation, constituted by its members without share capital. Proteus was incorporated in 2006 under Part II of the Canada Corporations Act as a not-for-profit Institute. It received its certificate of "Continuance" under the Not-For-Profit Corporations Act in 2015.
Its Executive committee membership must be constituted by a minimum of 60% people of Indigenous heritage.
As a National Organization we have some 5,500 subscribers and a reach of 25,000 people thanks to its partnership with Aboriginal Link. We produce and deliver Indigenous focused content across Canada.
We have two studios and offices in one location in the city of Ottawa. (see this site's Service page  for photos of our studios,)
What we do
ICN provides a dynamic, practical, virtual collaboration platform for dialogue about business, social entrepreneurship, and careers. It's a platform to connect, share, engage and prosper. It offers rich and varied resources to help our audiences improve their success, find opportunities, grow their business, and advance their career. (see this site's home page and video page to access content. Also view our program page for an update of this year's production series)
We also provide corporations and communities video/audio productions and research services making use of Foresight methods and multimedia on a fee for service basis. We work with organizations, large and small, that strive for excellence and innovation. ICN has the practical tools, the research strengths, and the programs to help you highlight  critical insights that deserve attention.
RESEARCH — Building Futures
This is a service that ICN provides. Whether you are a strategic leader in a private sector organization looking to develop joint ventures with an Indigenous  community, or an Indigenous community leader looking to expand the economic boundaries of your community to generate economic progress, ICN can help you develop frameworks specific to your needs, whether they be:
Improving knowledge and understanding of important trends and drivers,
Identifying attractive business options for potential development,
Creating and engaging in collaborative research programs.
All content is FREE.
JOIN IN
Participate in the Indigenous community's programming and events.
Tell your story – Inspire others and help them use the lessons you have learned in facing the challenges and opportunities in business and in life.
Subscribe to our free newsletter – Now! Click here.
To learn about ICN services, click here.