Canadian Human Security Foresight
The Proteus Canada Institute (Proteus) is a not-for-profit corporation, constituted by its members without share capital. Proteus was incorporated in 2006 under Part II of the Canada Corporations Act as a not-for-profit Institute. It received its certificate of "Continuance" under the Not-For-Profit Corporations Act in 2015. Its Executive committee membership must be constituted by a minimum of 60% people of Indigenous heritage.
In its early years, PCI was focused on the development of "Protean Critical Thinking" applications leading to the delivery of six major projects. In 2011, it began its shift from international security themes to apply its knowledge and expertise to explore ways and means progress can be made on Canadian Indigenous issues.
Themes included insights into Aboriginal situations ten years hence; Roles of Aboriginal women in developing and managing natural resources;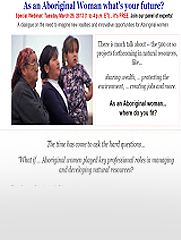 In 2013 The time has come to ask the hard questions…"What if … Aboriginal women played key professional roles in managing and developing natural resources?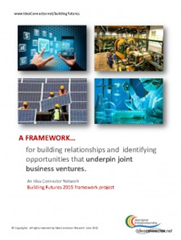 2015 we have produced "A Framework for building relationships and identifying opportunities that underpin joint business ventures"
In short Proteus/ICN brings people together to anticipate the future by developing plausible visions of what it might bring, so that preparations to deal with possible threats and to exploit possible opportunities can begin immediately.
This is also a fee for service that ICN provides. Whether you are a strategic leader in a private sector organization looking to develop joint ventures with an Aboriginal community, or an Aboriginal community leader looking to expand the economic boundaries of your community,, we can help you develop frameworks specific to your needs, whether they be:
Improving knowledge and understanding of important trends and drivers,
Identifying attractive business options for potential development,
Creating and engaging in collaborative research programs.
We work with organizations, large and small, which strive for excellence and innovation. ICN has the practical tools, the research strengths, and the programs which will help you highlight the critical insights that deserve attention to promote success.
For both financial and efficiency reasons, we makes major efforts to exploit technology so that
Canada-wide participation is possible in all its events through one or more of live streaming, online polling, publications and social media.
We understandthat real change rarely comes from the top. Change is achieved when ordinary people, in large numbers stand up together with a common cause.
If interested in discussing how Foresight can help you achieve your goals — Fill in the form