Creating a…

National Indigenous Women Entrepreneurs Ecosystem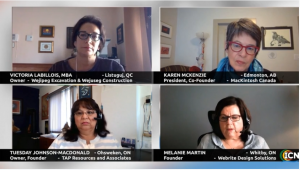 The benefits of having more Indigenous women-led-businesses are substantial for their own wellbeing, for their families, their communities and for Canada's growth. Yet, there are so many hurdles they must overcome, gender and Indigenous women issues, including biases, racism, poverty and lack of support. Plus many require practical knowledge, ongoing support and funding to launch and grow their businesses.  What Indigenous women have said: Click on picture for short video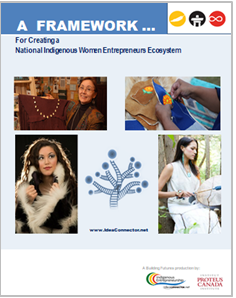 As one means to help overcome these hurdles, the Idea Connector Network (ICN) will launch a unique initiative, the creation of a National Indigenous Women Entrepreneurs Ecosystem. We are targeting the Fall of 2018 for the launch of two simultaneous pilot projects, in the cities of Edmonton and Sudbury.  The creation of this program is the result of a small pilot project delivered in 2016 and 2017 and of a research project recently completed in 2018. To view the Report " A Framework for Creating a National Indigenous Women Entrepreneurs Ecosystem — Click on the report picture to access
ICN believes that the dialogues and research reported above make a powerful case for establishing a National Indigenous Women Entrepreneurs Ecosystem (NIWEE). Its creation will offer all Canadian a means to promote opportunities for Indigenous Women which if seized will benefit everyone in the spirit of reconciliation
The plan calls for the creation of "Hubs" in selected municipalities or rural areas. These "Hubs" are to be linked online forming a National Indigenous Women Entrepreneurs Ecosystem. We define a "Hub" as the gathering (in a specific community or region) of entrepreneurs, funders, corporations, government agencies,  advisors and supporters interested in supporting Indigenous women seeking to launch their business and to engage in commerce. Foundational to these Hubs are Indigenous cultures and traditions.
Indigenous women interested in launching their small business will be provided a 5-month holistic program. The program will require 10 to 12 hours per week on average. It will integrate workshops, self-directed e-learning, e-simulations, group projects, networking, active coaching and mentorship. Collaborative learning is the cornerstone of this program and participants will accelerate their own learning by being part of a support circle of 15-women per learning group.  Ongoing purposeful mentorship will be provided for a total of 12 months.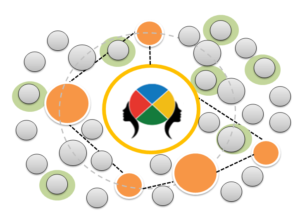 Participants will be enrolled in the program at no cost to them.  There will be 15 candidates in each Hub or serial for a five month period, mentorship and coaching will be provided for twelve months. In our present model, we are planning the delivery across Canada of 12 serials per year of 15 women per group. All "Hubs" will be connected in a national collaborative network forming the National Indigenous Women Entrepreneurs Ecosystem.
This program is a destination program aimed at increasing the number of Indigenous women in business and in supporting those interested in launching their business and to increase Indigenous women capabilities to access leadership positions. In addition to providing networking opportunities the program will enable the transfer of knowledge through local workshops, online workshops, self-directed on line learning, online webinars, simulations- experiential to-do, coaching and mentorship.
At the end of term, those women interested in launching their business  will have developed their own project, market tested their solution/product, developed their business plan and be ready to pitch investors
For more information, send us your inquiry at:
info@IdeaConnector.net